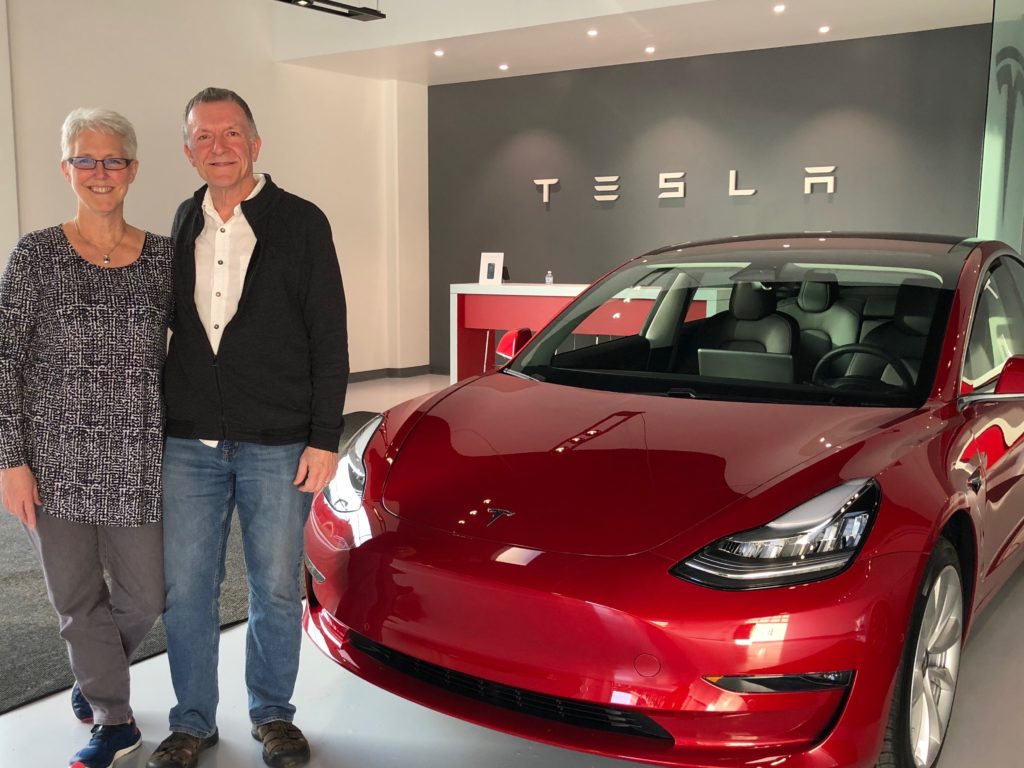 On February 4, I posted how excited we were to have been able to order our new Tesla Model 3, which we were affectionately going to name "Scarlett." Because of being given the reservation from our friends, who are in Mexico right now, we thought we'd have to wait until they returned to take delivery. That would be the middle of March.
However, through a series of fortunate events and some wonderful Tesla people along the way, the four week expected delivery date changed to two, we got "the call", our friends did not have to be there at delivery,  and we were able to pick up Scarlett from Tesla PDX last Saturday.
Just two weeks after ordering her.
Thank you, Tesla!
So this blog post is a reflection on one full week living with an all-electric car. Our friends who allowed us to use their reservation have said they will never buy an ICE (internal combustion engine) car again. And I think I have to agree.
First, the less-important aspects of Scarlett. The red multi-coat paint is unbelievable. This is probably the most beautiful red we've ever seen. The styling and "look" of the car both inside and out are so elegant and clean and classy. You have to experience it to really fully appreciate it.
Next, the operation of the car. As I mentioned in my last post, I've watched, I think, pretty much every fan video about the Model 3. I'd like to address some of the comments criticizing aspects of the car and talk about the fun aspects of Scarlett.
The door handle operation is simple and easy. Most of the critical remarks come from people who want it to be motorized or automatic like the Model S. Get over it. It's easy and simple.
I had a conversation with a friend about there not being a speedometer right in front of you and how it's distracting to look to the side. My experience is it is no less distracting to glance slightly to the right as it is to glance slightly down.
The wiper controls being on the screen are no issue if you set them to automatic. That's what we have done and the sensors work actually very well. When it starts to rain, the wipers come on and when the rain stops, they shut off. This also fits well with the headlights, which we also have put on automatic. As dusk approaches, the lights come on, the screen switches to night mode and all is good with the world.
The regenerative braking took a little while to get used to. In an ICE, you pull your foot off the accelerator and coast, then brake. With an electric car, if you simply pull your foot off the accelerator, you slow down rather quickly. This does a couple of things: it recharges the battery slightly and it saves wear and tear on your brakes. We have found in City driving we hardly use the brakes at all. The adjustment period on that was fairly quick.
Having our phone as the key also is a bit of an adjustment and I'm still not quite there yet. When we get ready to go out, we have found ourselves checking our pocket for the car key, then realizing we don't need one. The downside to that is I always carry my phone, which is good for always having my key, but bad because every time I walk near the car in the garage, it unlocks, then locks again. Not a big deal, but a little annoying.
Handling is superb. I have had a VW Turbo Beetle and way back a Porsche 914. Both had great cornering, acceleration and handling. Scarlett is right up there. The acceleration is the fastest of any car I've ever owned (I think their 0-60 in 5.1 seconds is underrated. It seems faster). She also corners amazingly well. I think the combination of the 19" low profile wheels and tires and the battery being low and central for weight distribution makes a huge difference.
Delivery. I need to talk a bit about customer service. Tesla is known for its quality, safety, etc. But I've not heard a lot of talk about their delivery team and customer service. Our first contact was Nina at Tesla in Las Vegas. She worked out the details of delivery date, "paperwork" etc. She was VERY pleasant, congenial and helpful in walking through the process. Then, when we arrived in Portland to take delivery, Cindy and Kyle were our main staff and were just as pleasant. Our appointment was at 3:00 and they were running a bit late detailing our car (they had delivered TEN Model 3s THAT DAY). They greeted us, apologized for the delay and made the whole process so nice. My car purchase history has always been sitting in a small room with the sales rep trying to sell you undercoating and extended warranties and dickering on the price. The Tesla experience is WAY different. The price is what the price is. There are no extended warranties, undercoating or extras they try to add on. Cindy was there primarily to educate us on the operation of the basics of the car. Paperwork was quick, easy and a total of 8 pages (my parents just bought a new VW and they have a stack of paperwork).
We are now making excuses to drive places and can do so with little guilt about our carbon footprint because we are now 100% electric. And, once the sun comes back to Oregon, we will be charging with solar. We made it almost a week on one charge (136 mpg equivalent) but we've been giving rides to friends and family and making extra trips simply because Scarlett is just flat out fun to drive. I'm sure that will settle down a bit; our goal is to charge every week or two during the day with solar.
That's probably enough to talk about today. It's early Friday morning, I just received the notification on my phone that Scarlett is completely charged and ready to go and we have some errands to run.