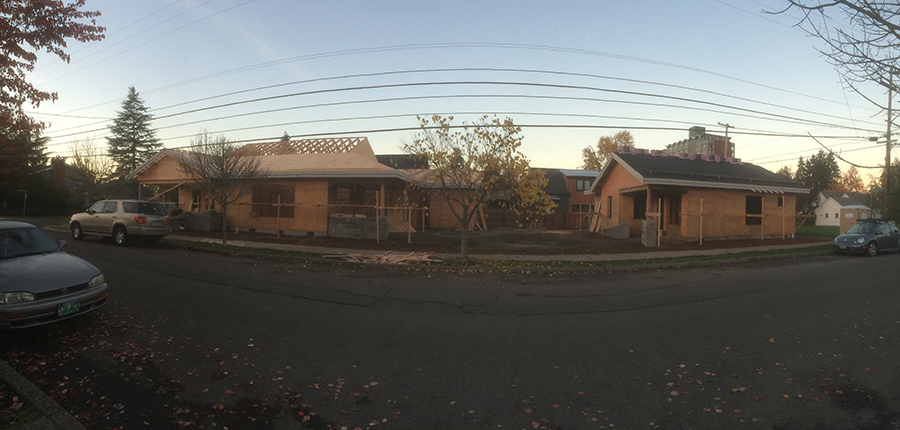 With the roof trusses up and the eaves and fascias and barge boards going up, the houses are really, really feeling good to us.
The overhang framing adds such a dimension to the houses and the curb appeal. The stacked, double 2×8 fascias add a sense of mass to the houses that, I feel, is critical. One pet peeve I have as an architect is wimpy overhangs and fascias that are barely larger than the gutters; you can barely see that they're even there!
The roofs are going on; the cottage has the felt paper and the main house is getting close.
We are also starting to make some of our selections of materials, even though we've had most everything picked for four years. We had a walnut selected for our cabinets that we LOVED. The grain, the hue (a very dark walnut) were perfect. Except. The sample was Peruvian Walnut. As in rain forest walnut.
So we're rethinking the walnut and looking at a domestic Black Walnut. Aside from the rain forest issue, my concern was the way walnut fades. We had cherry floors in our previous house and cherry darkens with age; no problem. In fact, it looked better and better year after year. But walnut fading doesn't excite us too much.
So I Googled it. (Google is a verb now). And I found that walnut apparently really only fades in direct sunlight and/or UV. Well, none of our cabinets will see any direct sunlight. They are all internal to the house or under a large porch overhang. So I think we're good.
If you click on the picture above, you can see both houses. I did a panorama and it doesn't fit well in my blog format.