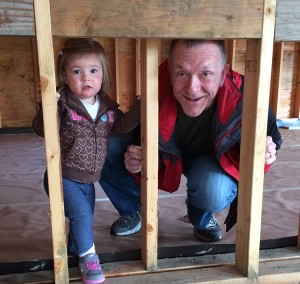 There hasn't been much visible to post, so I thought I'd show some recent progress (and Hannah is helping with this post; she's used to this, I think, because her other set of gaga's are building right now, too).
We have the garage slabs poured and covered, the rough plumbing mostly in and are just finishing the underground utilities (electrical, cable, sewer). Sidewalks get repaired and repoured tomorrow and we start work on the soffits tomorrow, too.
Roofs are completely on and after the soffits, we will start on the windows and getting things enclosed so we can start the electrical. We want to wait so our wiring doesn't walk off (a common occurrence these days). The crawl spaces are relatively dry (no standing water) and we are installing a french drain at the north side of the house, probably tomorrow or Wednesday just because.
It's a short work week this week because of Thanksgiving. And we are thankful for so many things: construction has really been going very smooth, bids are coming in close to where we need them to be, we are blessed to even be building a new home and our granddaughter came down to visit, so we gave her the tour.
We hope you all have a wonderful Thanksgiving. Be grateful for everything you have and everything you are.