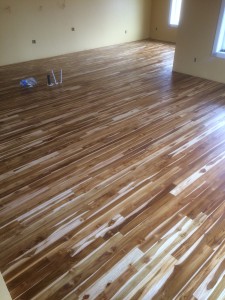 We finally have something I can post a picture of. And I believe it was worth the wait. Our wood floors are now down and two of the three coats of finish are on them.
And we have to say they are gorgeous!
We purchased the wood for our floors in June 2010 when we thought we would not have any trouble selling our Wintercreek house; OK, we were really wrong. Almost five years later, we have been able to pull the wood out of my business partner's warehouse (thanks for storing it for five years, Dan!) and get it installed.
As you can see, our floors throughout both the house and the cottage are FSC Certified Plantation Teak. The certification means the wood was grown in a managed forest under strict environmental and social guidelines.
The finish on the floors is three coats of Pallmann Oil, which has an extremely low volatile organic compound (VOC) rating (5g/L). It is a combination of natural oils and waxes. Very durable. Easy to maintain.
For our LEED credits, the wood floor needs to be something that doesn't trash a rain forest or at-risk stand of trees. The teak we used is plantation-grown under a controlled setting in one of my favorite countries: Costa Rica. No, it isn't local, but travels about the same distance to our west coat as hardwood from the eastern coast of the US (about 3,000 miles).
Also, for LEED, our floor finish has to be low VOC. VOCs are the harsh chemicals in finishes that can make us ill. As I've mentioned, our paint has 0 g/L VOCs (we are allowed in LEED up to 50 g/L) and our floor finish is allowed up to 100 g/L (the Pallmann Oil is 5 g/L).
It's been eye-opening (not eye-burning) to go into our house right after painting and right after the wood floor finishing and still be able to breathe. To not have our eyes burn from the chemicals found in many paints and varnishes. We have been able to walk through and breathe and not be bothered by any of the smells or vapors.
But beyond the specs and numbers: it's simply a beautiful floor!