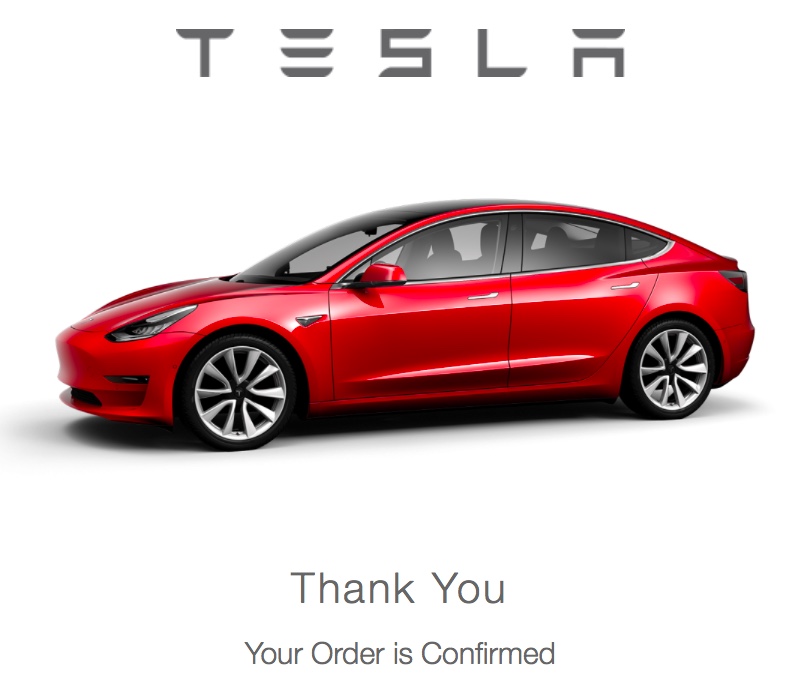 On March 31, 2016, Day 01 of the Tesla Model 3 reservation, we had some friends who were able to get in on the ground floor of this game-changing car. Knowing they would have to wait around two YEARS to take delivery, they opted to purchase a Model S.
Knowing we had committed that our next car would be all-electric and that the 2001 VW Passat we had owned for 12 1/2 years (at that time) was getting older by the day, they gave us a call and asked if we wanted to assume their reservation.
We, of course, said "yes."
When we built our new home in 2015, we had pre-wired it for two car chargers in the garage (future-proofing) and I had our electrician come back in December 2017 to wire in the NEMA 14-50 plug and breaker. This will give us about 30 miles per hour of charge. With the 310 mile battery, we could easily charge from 0% to 100% over night. But we probably won't be charging at night; more on that later.
Fast-forward to January 2018. Tesla has been slow rolling out the Model 3. They started with employees of Tesla. Our Passat was now approaching 17 years old and we've had it for about 15 years. The last new car we purchased was my Beetle, also in late 2002. We felt it was time for a new car. Our friends called again and said they received the email that we could now configure and order our car.
This part was easy because Brenda and I had been immersed in the details of the Model 3. Well, truth be told, I had been immersed (watching every video out there on Teslarati and Youtube) and had relayed every tidbit of information to my very very patient wife.
We had by this time decided on red (I hadn't had a red car since my first car, a 1974 Chevy Nova SS) with the nicer wheels. We also knew that for the onboard computer, you have to "name" your car when you configure it. So after a pretty extensive Google search for an appropriate name for a red car, we are 90% sure we will name her "Scarlett." We ordered her on January 27, 2018.
Because our friends are currently out of the country and they have to be there when we take delivery (Tesla won't allow them to simply transfer the reservation; I think to minimize "scalping"), we won't be able to actually take delivery until close to the end of March when they return.
That really isn't too much of a problem. Since we have been waiting two years, what's another week or two?
There are so many things about this car that intrigue us (well, me for sure). An EPA rating of 130 mpg equivalent. The idea that we can drive on a full charge 310 miles for about $5 of electricity (at retail). Our idea is that with our solar on our house we can charge during a sunny day and only cost us a net of about $1.60 for a "full tank" from empty. This is what our friends do since they also have solar panels. $1.60 from empty to full. Mind blown.
I will blog more after we get the car with our impressions. I know virtually every review from people on line has been largely positive. I also would, at this point, just be repeating all of those comments.
But I believe this is the future of autos. Tesla is a 7-year-old company that has turned the auto industry upside down. As of December 2017, Tesla was more valuable than Ford. In seven years! VW lost us in about 2007 when I asked when they would be coming out with an all-electric car and received a terse response then of "we have no plans for an all-electric car." Things have certainly changed in the last decade. Now most every major manufacturer is working on an all-electric car option. Even VW. Too little, too late for us.
I do think I will resist doing the "we're-taking-delivery-of-our-Tesla-Model-3-today-live-video-blog" because I want to enjoy the experience and not be distracted by a camera.
There you have it for now.
Bye bye Beetle. Hello, Scarlett!